COLLECTIVE MESSAGE
Happy Gemini season! By the time you're reading this, Mercury will be in retrograde and we will be feeling the after-effects of the full moon eclipse in Sagittarius. I cannot emphasize how important taking it slow and being chill during this time is. These elemental tarotscopes provide extra insight into navigating the themes that are coming up this month, so read them in tandem with this month's themes below.
The Hanged Woman, 8 of Swords, and The Chariot are the themes for this month. The Hanged Woman signals a necessary pause and perspective shift. The 8 of Swords highlights how you've been engaging in self-sabotage or martyrdom. The Chariot shows up to give us that push of willpower, determination, and confidence to work through it all. Take time to meditate and open your eyes to where you're tripping yourself up. You can't move forward with your vision and goals if you've got yourself bound and wound up. Trust yourself enough to slow down.
The path (represented by the Chariot) is here, but you can only step forward if you're ready. Taking off with unfinished business or murky plans is not advised. With Mercury appearing in retrograde, it's best to prep and double check everything before proceeding. This also applies to the ways you're communicating and any aspects of mental health you're currently processing.
Don't get swept up in the momentum of the season and start what you can't finish. Be discerning about where and who you put your energy into. Take time to figure out if it's really worth it, especially in terms of conflict. It will be easy to get thrown off balance or clouded over petty shit. Doing something for the sake of the experience might not have the outcome you expect it to. As you move through this month, be intentional about the ways you seek balance. What are you trying to balance out? As you meditate on these themes, can you glean any realizations that help clear the path?
All this to say, please, if you're putting in the work, put in the rest. Shadow work is prescribed by the planetary positions, so celebrate and cherish even the smallest joys and successes.
Hold onto what resonates. Share this with those who come to mind as you read this.
The Deck
For these tarot messages, I used the Neo Tarot deck. Illustrated by Daiana Ruiz, its accompanying book was written by Jerico Mandybur. Daiana Ruiz is a visual artist and illustrator based out of Buenos Aires, Argentina. Jerico Mandybur is a tarot reader, spiritual coach, and bestselling author. Neo Tarot fuzes illustrations of androgynous humans with card interpretations, affirmations, and self-care tips corresponding to their respective cards.
The Spread
For this month's tarot forecast, I'm pulling one card for each element: Earth, Air, Water, and Fire. Read the element that corresponds to your sun sign and rising sign if you feel called to. Below is the element that corresponds to your sun sign. To find out your natal chart information, CafeAstrology has a pretty comprehensive beginner's chart interpretation.
Air: Libra, Aquarius, Gemini
Earth: Capricorn, Virgo, Taurus
Fire: Aries, Leo, Sagittarius
Water: Cancer, Scorpio, Pisces
The Elements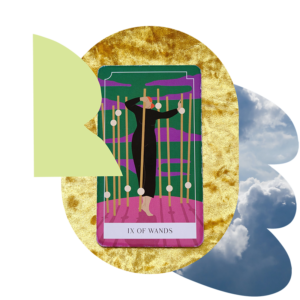 Air 🜁
9 of Wands
Notice the person in the card is gripping one of the wands. They look trapped, but in reality they have the ability to let go. They're even leaning on one of the wands for support! The Hanged Woman urges you to take a pause. Relinquish the hold and control you've been exercising, whether that's internally or externally. It's draining. Ask for help. This month, take a look at your self-limiting beliefs and how it's affecting your mental health. Spend some time exploring where they stem from.
Earth 🜃
The Tower
There's no point in trying to control what the Tower brings down. Leave alone the things that need to crumble. Find what's salvageable to rebuild, and walk away. This card may represent either an internal thought, pattern, cycle, or behavior, or an external event. Either way, this will bring a much needed perspective shift and push you out of the ways you've been confined. It will help open your eyes to what hasn't been working. Be gentle with yourself as this month's themes come into your consciousness.
Fire 🜂
Wheel of Fortune
The Wheel of Fortune takes you for a spin. At this time, certain aspects of life may be magnified or amplified. You're asked to stay calm as this month's themes play out (just like the person at the center of the wheel). How can you integrate calm and centeredness into your daily practice? Make it sustainable. The four figures framing the card represent the fixed signs of the zodiac (leo, aquarius taurus, scorpio); no matter the outcome, clarity or insight is to be gained.
Water 🜄
The Moon
You may not have all the answers right now, and that's okay. In time, they will come. Accept and lean into this time of not knowing. This card has a #9 vibration, your answers are closer than you think. Spend time in or near water to help process what this month's themes are bringing up. Go deep within to see what needs to be released. Pay attention to the messages your dreams bring. Release any control you might have over yourself and your outcomes, especially emotionally.
Leo Abbott is a nonbinary Caribbean bruja whose interpretations come from a trauma-informed, queer, Caribbean Latinx, anticapitalist, non-Eurocentric perspective, weaving in astrology and numerology. Much of our struggles and hardships come from oppressive hegemonic systems/energies. Their work aims to heal the effects of these energies, all while uplifting and empowering those who are most marginalized in our communities.⁠

Follow Leo on IG @glorytarotdaily. You can book your next tarot reading with them through the link in their bio. Leo always has sliding scale pricing for QTPOC and also accepts donations on cashapp $leoariel and venmo @neoleoz.