October brings Libra and Scorpio season, two full moons, and Mercury retrograde. As the season shifts, so do our internal worlds. The work of this month is heavy and highly independent. But, with the love and support of our community and family, we can see this through. Honor those in our lives that honor us, those that reciprocate the time and energy we give them. Those that can share the abundance they have access to. If you find yourself questioning who in your life makes you feel this way, this is the time to figure out just who that is. How will you and those around you create lasting stability? Contemplate this as you reflect on your tarot message for this month. This work is crucial as we continue fighting for queer and trans Black, brown, indigenous lives, and envision and create a world for ourselves where justice, care, and compassion are part of the foundation. If you find yourself getting caught up in the static, this month's tarotscopes also provides a ☿ retrograde at the end of each element.
For these tarot messages, I used the Neo Tarot deck. Illustrated by Daiana Ruiz, its accompanying book was written by Jerico Mandybur. Daiana Ruiz is a visual artist and illustrator based out of Buenos Aires, Argentina. Jerico Mandybur is a tarot reader, spiritual coach, and bestselling author. Neo Tarot fuzes illustrations of androgynous humans with card interpretations, affirmations, and self-care tips corresponding to their respective cards.
For this month's tarot forecast, I'm pulling one card for each element: Earth, Air, Water, and Fire. Read the element that corresponds to your sun sign, and rising sign if you feel called to. Below is the element that corresponds to your sun sign. To find out your natal chart information, CafeAstrology has a pretty comprehensive chart interpretation.
Earth: Capricorn, Virgo, Taurus
Air: Libra, Aquarius, Gemini,
Water: Cancer, Scorpio, Pisces
Fire: Aries, Leo, Sagitarrius
Each card interpretation also lists the numerological energy of the card and ways to channel the energy of the card. For cards that are double digits, you add to get a single digit. For example, card #13 has #4 vibrations (1+3=4).
Hold onto that which resonates. Share this with those who come to mind as you read this.

Temperance comes after the Death card, symbolizing a new beginning, change, and the ability to truly find your center. It asks you to find that perfect ratio, that golden center. This month is all about seeking balance. A rebirth is here. You have everything you need to embody your role in the universe. One foot is in the water and one on land, reminding you to stay grounded while honoring your feelings. Protect your spirit and energy. This work is tiring, take care of your body accordingly. Find out what spiritually rejuvenates you. Be patient and move through the world with grace. Commune with the elements. Note how the water from the cups in the illustration is the same color as the crown/glory behind the person's head. Apply ritual and spirituality to everything as you go about your day-to-day, and watch your conscious shift.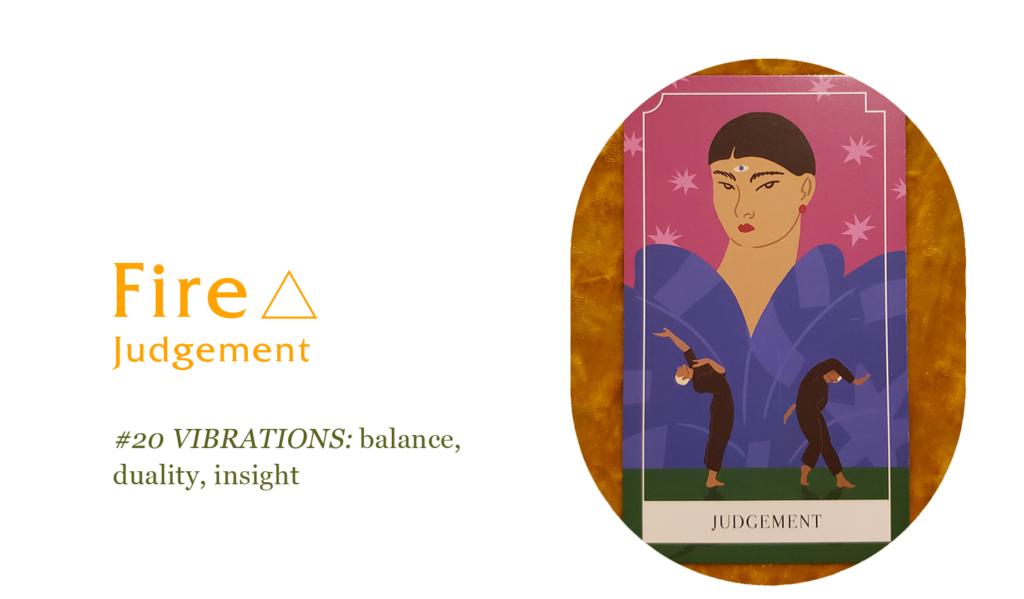 Your judgement of yourself or a situation will lead you to a life altering realization. This card promises a new start. You're gaining a greater understanding of the world and your place in it. On the card we see the third eye of the central focus/person of the card. This is a time to engage in spiritual work. Meditation will benefit you now as you consider ways to continue moving through the world, as you begin to reconcile with past experiences. Your foresight is strong at this time. Everything you've learned has brought you here to a state of truth. The work is to understand all parts of the self and what connects you to everyone else with patience and forgiveness. Judgement is an invitation to awaken. Let compassion transform you. This card comes after the playful exploration of the Sun. It's a rebirth into a wiser you. How will you embrace this energy? Are you ready?
Who are you fighting? Aren't you tired? The people on this card look like they're all confused about what they're doing, but engaging anyway because they don't want to get caught off guard; protecting as a reflex instead of actually paying attention. Look at the people in your life. Are they truly allies? How have you been speaking to/treating yourself lately? Try to harmonize whatever turbulent energy is around you – whether internal or external. Examine the source, re-focus, and start moving in a clear direction. Stay focused and confident. Go easy on yourself. Beware of the ways you're protecting yourself: are your walls too high? Are these tools helping or hurting? Getting caught in the unstable fiery energy of this card is really throwing yall for a loop. Think of tree trunks or root systems if you find yourself dizzied by all the noise around.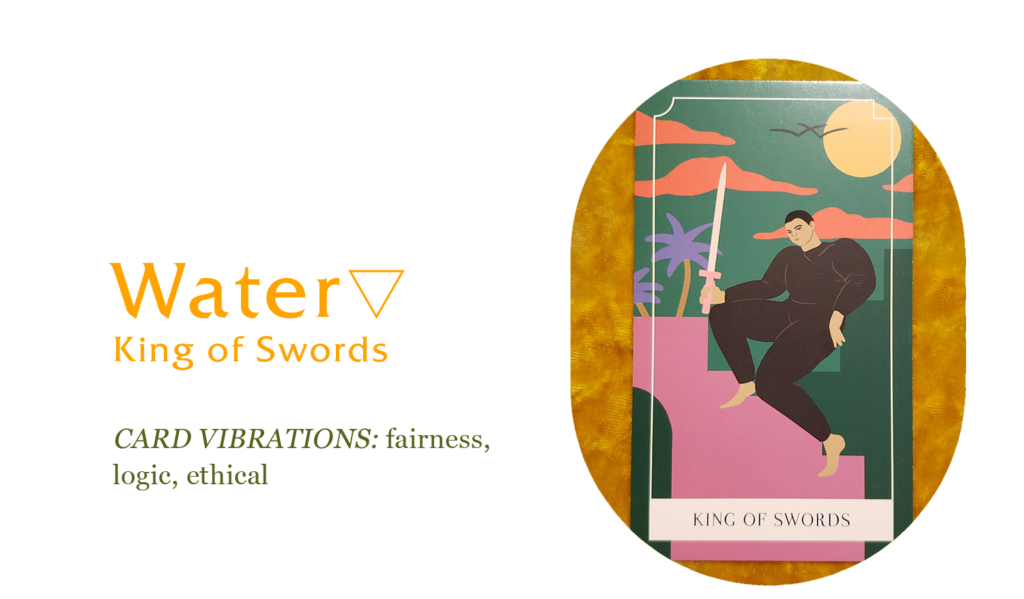 You're getting what you require this month. The power your voice and words have right now! This month, you're being asked to put your feelings aside when moving forward and/or making decisions. Like the King posed on the card, relax, but don't let your guard down. Your intuition will be of great service at this time as well. You have control over your logic, over how you process and respond. Rationality is key. Speak your truth and be political about it. The air energy in this card is heavy, think of the power air and water have when joining in nature. Lean on your sense of what does and does not feel good. It's not so much about right and wrong, but about how it affects you and those around you. Make judgements from a place of facts and objectivity, but don't be too rigid with yourself or others.

Leo Abbott is a nonbinary Caribbean bruja whose interpretations come from a trauma-informed, queer, Caribbean Latinx, anticapitalist, non-Eurocentric perspective, weaving in astrology and numerology. Much of our struggles and hardships come from oppressive hegemonic systems/energies. Their work aims to heal the effects of these energies, all while uplifting and empowering those who are most marginalized in our communities.⁠

Follow Leo on IG @glorytarotdaily. You can book your next tarot reading with them through the link in their bio. Leo always has sliding scale pricing for QTPOC and also accepts donations on cashapp $leoariel and venmo @neoleoz.