Written by Lauren Yoshiko
For artists of color living in Portland, Oregon in 2020, it's never been a more surreal time to create. The summer's conflicts between police, protests against police brutality, and Federal law enforcement are being discussed on the world's stage. Rampant wildfires and hazardous air pollution adding underlining a mild state of terror to already tense times. As Portlanders and people everywhere struggle to find space to process changes (or lack thereof) in how we talk about and act upon social justice issues, multidimensional artists like Salomée Souag serve as both a lens to understand what's going on and a signal of a better, stronger community ahead. One of Souag's latest projects was creating Barbari's first IG filter, which is now live via @barbari.herbals.
In this interview for Barbari, Lauren Yoshiko talks with her about her work, how art fits into activism and what it's like making art in the protest a capitalist America.
LY: How did you end up in Portland?
Salomée: I was born in Switzerland, and I moved here during middle school as a result of my dad getting an amazing job offer and the opportunity to travel overseas. He decided to take a leap of faith and risk everything for us to have a better life. He is my hero, and every move I make is inspired by his strength and power. I will forever thrive in taking risks, getting out of my comfort zone, and believing in myself. As our first language is French, learning a new language and new culture sculpted a lot of my life and character. I'm a Peruvian and North African woman that is Swiss and speaks French—named Salomée—I will always be loud and bold about everything I embody that is unique.
LY: How do you describe yourself when people ask what you do?
Salomée: I am a multi-layered woman that wants to do everything and be everywhere. I say that you can see my multiple personalities when looking at my work. My design work is very different from my murals, and my murals are very different from my directed photoshoots and my projection work. I don't see myself as an activist, I just see myself as a creative doing the work that has always been essential to do. I put my heart and soul into everything I touch.
All my art matters equally, and it all has one thing in common: to take up space unapologetically through the lens of social justice, racial justice, environmental justice.
LY: How do you describe your visual style?
Salomée: My style is multi-layered, fresh, unafraid, and purposefully loud. No matter if it's a small or large business, a restaurant brand or non profit, I will always approach it with a new eye and perspective. My design approach is a combination of very functional and powerful messaging with bold and unapologetic designs and color choices that make it impossible for people to ignore and move on. I believe art and design can change the world one wall at a time, one design at a time, one person at a time, and one perspective at a time.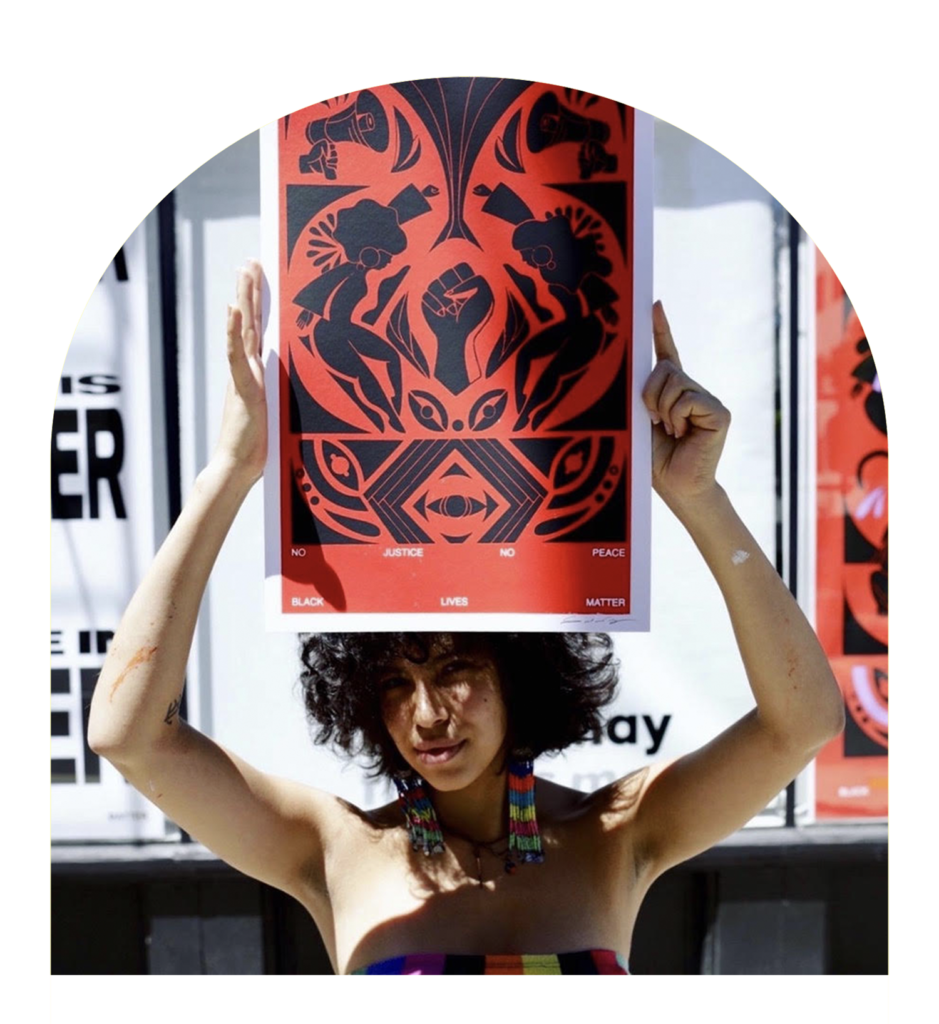 LY: How does creating art for art's sake vs. creating art for protests change your process? Perhaps it doesn't at all?
Salomée: I think the root of the process always remains the same. My process embodies the same passion, brainstorming, conceptualizing, the connection of themes, and visualizations each time. However, the execution can be different. It can be very unexpected and chaotic. In relation to the protests, there is a lot of energy around and I have to work with the people around me and what feels right at the time. I've never done anything like this and I am definitely learning on the go and the experience is always changing. I've had to move quickly with wheat pasting and spray painting and it's not the same as a commissioned mural, but they are equally important. I am also working on pieces that come to life on the spot, such as posters or signs.
What I like about this process of working on the spot is getting to see people interact with the art in that very moment. Each interaction is so unique. This is my oxygen now: creating art for the revolution; art for change. This type of creation during the revolution has the ability to make a protester feel worthy, feel like they are heard. It brings power to the people. Power to the creatives; power to the youth; power to women; power to the LGBTQ+ community—power to all people on the right side of history.
LY: Describe what it's been like creating art in Portland the past few months.
Salomée: It's been the most beautiful moments of this life so far. It's been painful but also a celebration at the same time. I think a lot of us have been doing this work for a while, secretly, but are only now getting recognition because of elevated awareness through the Black Lives Matter movement of 2020. The revolution has always been alive…but now the world is paying attention.
When I started painting in July, I was painting a mural by Revolution Hall where many of the protests started. I was fueled by the energy and power of the people as I painted. This is where it all started. From then on I started wheat pasting all around town. I wanted to show that street art can be beautiful, impactful, and inspiring, especially after we were called anarchists for using graffiti to express ourselves on the Justice Center. I want to prove to the oppressive leadership and tendencies of this city and beyond that they're wrong. I want there to be messaging everywhere to make it impossible for people to move on and go back to normal. I want to show there is still so much work to be done, and that we are far from justice. After I was able to raise money for Expression Against Oppression—a project to fund BIPOC artists to create in public spaces in downtown PDX—the community began to grow and more voices began to get heard.
Art is essential during this time, especially for Black and Brown artists. This is the space we deserve and we are going to reclaim. This project pushed me to want to do more and I hope to create more projects like this in the future.
LY: What do you hope your art inspires?
Salomée: I create to evoke any feeling, it can be a bad reaction or a good reaction. All I want is some type of reaction. Our world is so numb to pain; numb to feelings. This is when we start to lose humanity. My job as a creative is to make people feel empathy, to see themselves in the story I am telling through messaging, photography, and bold design elements. I do hope to always inspire, inspire to create more, inspire to feel like it's on us to do the work, and inspire to change our ideas of "normal." I want to elevate Black voices and experiences in a way that honors these stories, these everyday heroes. Simultaneously, I also want to make people who are staying silent to understand that they are the problem but also the solution. We all need each other now more than ever.
LY: Does cannabis play a role in your creative process? How so?
Salomée: Cannabis is more a support system and the other side of my creative process. As a woman of color, as an immigrant, and as a creative, there are multiple layers of my life that have become very heavy on my shoulders. I don't use it when I'm working and creating, but I use it when I can finally find some relief and let go of all the pressure I put on myself. When I smoke, I am able to fully take time for myself. It's a ritual now. It has the ability to put this crazy mind at ease and remind me that it is okay to sit and meditate and not always be, "go, go, go." However, CBD has saved my life in so many ways and become a part of my creative process. I can use it at any time of the day and especially when I'm brainstorming and painting my murals.
It's important to talk about the war on drugs and the connection between cannabis justice and racial justice. It's part of the bigger picture of reforming a corrupt system from the ground up. This is also something I want to focus more on in the future.
LY: As the seasons shift, what are you taking with you into autumn?
Salomée: It's a new beginning for me. I am officially a full time freelance creative now, which I've never been before. It's terrifying but also freeing. I will be able to fully focus on my social justice work. I will bring everything I learned during this summer into this next chapter. I am not the person I was in March. I have grown and learned so much, it's very unreal. I will bring the love I have for my community, the anger I have from the oppression and trauma I experienced from police brutality and white supremacy, and the fuel I feel from the work I've done into the autumn months. There are so many projects I have yet to do, so many collaborations and installations I want to bring to life. I will be putting a lot of focus on this year's elections and focus on Black and Brown voters by creating work that highlights that their vote and voice are essential and worthy.
I read this somewhere and use it everywhere:
---

Salomee Souag currently resides in Portland, Oregon. Give her a follow and support at @chromae.s to see more of her revolutionary work.