Five planets are currently retrograde. Venus just stationed direct, but we still have Mercury, Jupiter, Saturn, Neptune, and Pluto sitting pretty for a while. Chiron is also set to retrograde this month, and Mars is entering Aries for the rest of the year. What does this mean? It means we'll be feeling funky for a while, sifting through old patterns of thought and behaviors. It means we're gonna have to gear ourselves up for big shifts in how we live our lives, both on a personal level as well as interpersonal/community/global. The work we're being called to do is one that not many have engaged in envisioning before. A lot of us are continuing the work we've been doing, though many are still coming to realize and learn about the importance of empathy and creating communities of care; whether that is through healing lineages or being accountable for the actions of yourself and ancestors.

THE DECK
For these tarot messages, I used the Neo Tarot deck. Illustrated by Daiana Ruiz, its accompanying book was written by Jerico Mandybur. Daiana Ruiz is a visual artist and illustrator based out of Buenos Aires, Argentina. Jerico Mandybur is a tarot reader, spiritual coach, and bestselling author. Neo Tarot fuzes illustrations of androgynous humans with card interpretations, affirmations, and self-care tips corresponding to their respective cards.


THE SPREAD
For this month's tarot forecast, I'm pulling one card for each element: Earth, Air, Water, and Fire. Read the element that corresponds to your sun sign, and rising sign if you feel called to. Below is the element that corresponds to your sun sign. To find out your natal chart information, CafeAstrology has a pretty comprehensive chart interpretation.
Earth:
Capricorn, Virgo, Taurus
Air:
Libra, Aquarius, Gemini,
Water:
Cancer, Scorpio, Pisces
Fire:
Aries, Leo, Sagitarrius

Each card interpretation also lists the numerological energy of the card and ways to channel the energy of the card. For cards that are double digits, you add to get a single digit. For example, card #13 has #4 vibrations (1+3=4).

Hold onto that which resonates. Share this with those who come to mind as you read this.



---
The Elements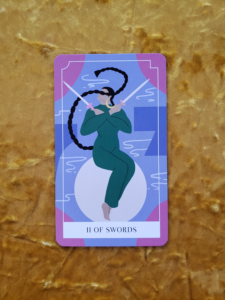 EARTH
2 of Swords (card elemental energy: air)
#2 Vibrations: duality, choices, insight

What are you avoiding? The 2 of Swords shows us a retreat or refusal to communicate. It's a closing off of self from the truth. Self-imposed isolation that could be physical, emotional, mental, or any combination of these. If you've been feeling trapped or cut off from your loved ones, your voice of reason will guide you. It's okay to engage in rationalizing your emotions, but don't do so at the detriment of your heart, of what you're truly feeling. Whether you're working through issues of communication in intimate relationships or grappling with unlearning oppressive thought patterns brought on by white supremacy and anti-blackness, see things for how they really are. You don't have to go through this alone. Be vulnerable about what you're avoiding. Confide in a loved one to process what's been rattling around in your brain. Speaking these feelings aloud is the only way to begin processing them and making steps towards a better you.


AIR
Death (card elemental energy: water)
#13 (#4) Vibrations: boundaries, foundation, planning


Fear not, babe. This Death card, associated with the sign of Scorpio, requires transformative work from you. Yes, change can be daunting. The end of a cycle always has us reconciling and grappling with feelings and thought patterns we thought we took care of. Let go of these old patterns and embrace what's new. If we're pushing to dismantle various forms of oppression (on a macro level), that work is only able to get done by those who are doing the work on a micro-level. Being afraid of growth only diminishes our capacity for empathy, care, and compassion. This sweeping change will only get you closer to fully stepping into your truth. Say yes to transformative, redemptive energy. Honor your mourning, let go of what's beyond your control. If you find yourself needing to experience a breakthrough/threshold, watch the sunrise.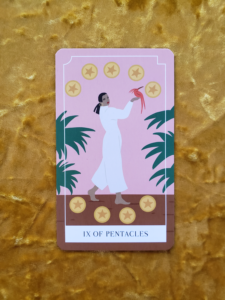 FIRE
9 of Pentacles (card elemental energy: earth)
#9 Vibrations: awareness, magnetism, selflessness

Let your accomplishments bring beauty into the world. Enjoy this time of prosperity, independence, and comfort. Surround yourself with earthly well being and comforts. Connect with an Earth sign to enhance these vibes. Reach out and surround yourself with those who support and uplift you, those you can trust. Know you've earned all you've received. Congratulate yourself, celebrate your accomplishments. Shower yourself in luxury and sweetness. Feel entitled to earthly grounding and pleasures. Reap the fruits of your labor, and share if you find yourself in abundance. Scarcity is a myth: there's plenty of resources, comforts, and pleasures to go around. If we're creating a liberated world in which everyone is seen, held, and valued, how will you create, sustain, and redistribute resources?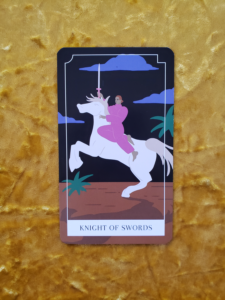 WATER
Knight of Swords (card elemental energy: air)
Card energy: an opportunity for decisive action, forward movement, need for protection


If you've been contemplating on finding ways to communicate and get your point across, this card comes in clutch with that energy. The Knight of Swords is courageous and forthright. Headstrong and idealistic, they take swift action in the arena of the mind and communication. On our quests for meaning, we find we're stronger than we thought. Our insights are more profound and our words sharper; we're amped up in the name of something worth defending or championing. Keep moving forward, stay humble, and stay in your lane. Your words have great power right now. How will you use them to further the liberation of oppressed peoples, particularly Black folx and Black LGBTQ folx? How will you use them to cultivate healing and care in your personal relationships and with yourself? To be a cunning linguist takes skill. Find a stone, amulet, or talisman to carry with you to protect your energy as you move through this journey.
Leo Abbott is a nonbinary Caribbean bruja whose interpretations come from a trauma-informed, queer, Caribbean Latinx, anticapitalist, non-Eurocentric perspective, weaving in astrology and numerology. Much of our struggles and hardships come from oppressive hegemonic systems/energies. Their work aims to heal the effects of these energies, all while uplifting and empowering those who are most marginalized in our communities.⁠

Follow Leo on IG @glorytarotdaily. You can book your next tarot reading with them through the link in their bio. Leo always has sliding scale pricing for QTPOC and also accepts donations on cashapp $leoariel and venmo @neoleoz.