"Be humble…sit down" – Kendrick Lamar

This quote was ringing in my mind throughout the entire tarot reading. We've got our work cut out for us this month y'all. I know Gemini season has us all abuzz, especially with summer right around the corner, and figuring out how to care for our mental health amidst social distancing and isolation. This month is about turning back into ourselves, with the help of Venus, Saturn, Jupiter, and Pluto currently retrograde. June is all about us finding balance in stillness and action. It's about deep transformation: newly arriving at another place/stage in life necessitates humility. Tuning in and strengthening your connection with your intuition is key this month.


THE DECK
For this month's reading, I used the Collective Tarot. Unfortunately no longer in print, this deck was illustrated by a collective of QT/POC artists. The illustrations feature dis/abled, Black, brown, Indigenous, trans, and fat bodies as well as animal imagery. Some of the Major Arcana and court cards are different than those found in traditional decks. The cards will still have a similar energy to its traditional counterpart, though the illustration and interpretation is done so in a non-gendered and non-hierarchical way. For example, the Judgement card in traditional decks shows up as Liberation in this deck. The court cards are Seeker, Artist, Apprentice, and Mentor, which are more knowledge-based positions as opposed to power based traditional ones (such as queen, page, king, etc.). The suits are also switched to be more relevant to items we are familiar with today: Keys (instead of Wands), Bottles (instead of Cups), Feathers (instead of swords), and Bones (instead of Pentacles).

THE SPREAD
This is a monthly renewal spread that I found online from @witchonabudget. My month forecasts are usually 1 card per week and a general vibe of the month card. Now that the initial feelings of chaos have quelled a bit since March, this spread will help us focus on how to approach June and begin to create some sense of routine or stability for this new time in our lives.

Each card interpretation lists the element the card corresponds to, the numerological energy of the card, and ways to channel the energy of the card. Hold onto that which resonates. Share this with those who come to mind as you read this. Come back to this whenever you need a reminder of the work or reassurance that you're on the right path. Consider revisiting April and May's blog posts to get some context to how our work as a collective and as individuals have been progressing.


---
Energy of this month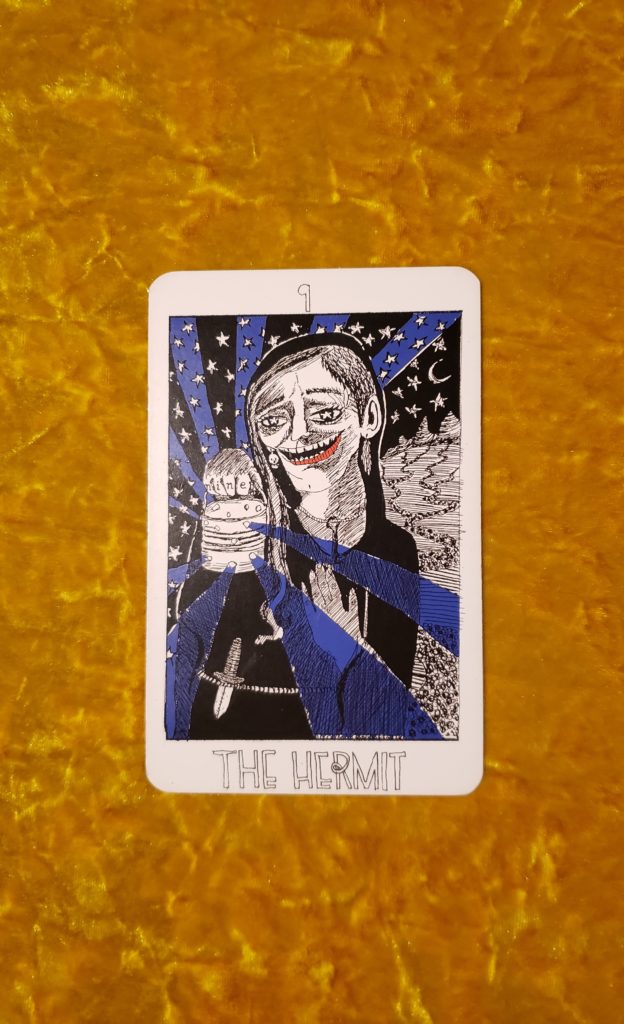 The Hermit (earth)
#9 Vibrations: final adjustments, fulfillment, fate, self-awareness, magnetism, selflessness


Take stock of your internal resources. Develop a new vision for yourself/your life, and allow this Gemini season to bring an air of creativity. The Hermit travels alone. So this work must be done alone. Take the time to arrive at your truth. Let your light shine at unseen possibilities in this solo journey. Develop or return to your spiritual practice. Stick to the practices your Ancestors passed down to you. Don't engage in spiritual practices that are not culturally yours. Spend time in nature, talk to plants and animals. Find beauty in the smallest things that catch your eye, in the shadows and corners. Question any outdated notions/beliefs you may be holding in regard to systems, institutions, and establishments. Life as we know it BC (before corona) is no more. This month is a brave entry into a new phase of existence. 

Something to release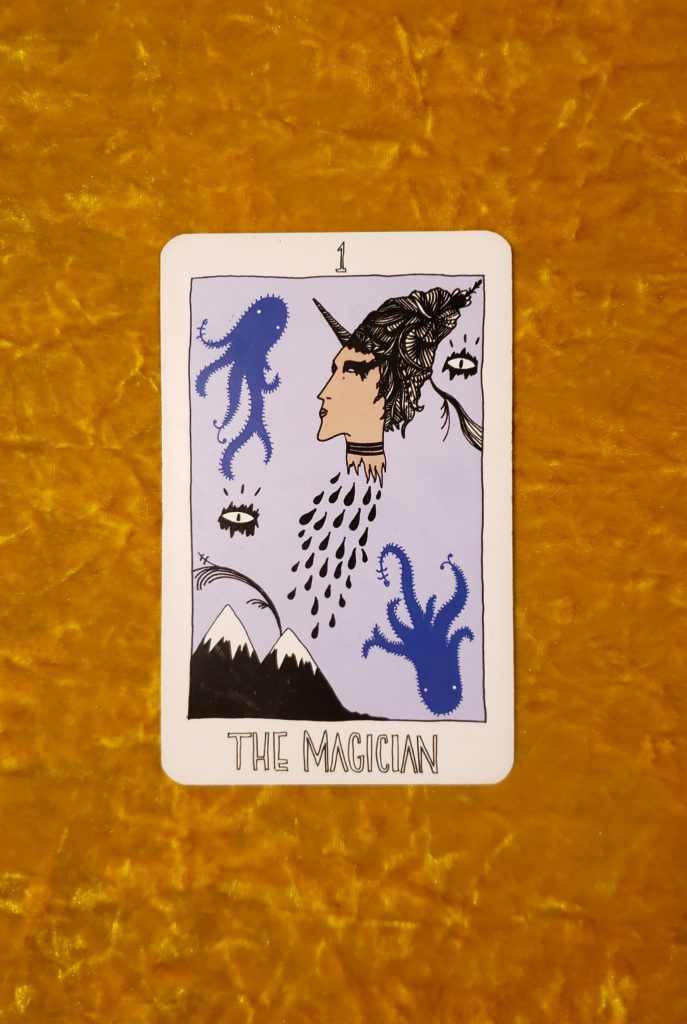 The Magician (air)
#1 Vibrations: potential, initiation, independence

As the Hermit card asked you to question outdated establishments and systems, the Magician shows up and in this position asks us to look at the ways you use/wield power. Let go of outdated notions of power. Reevaluate your feelings and perspective around scarcity and resources. Create space for softness in your life/with yourself. The Magician has all the tools and skills at their disposal. Yet what we're being asked of here is to let go of the notion that you have everything you need. Are you using outdated tools? Operating on old knowledge? The Hermit encourages a new exploration of this. It's time to take a step back from the position/power of the Magician (be humble…sit down). Draw upon the power of your community to improve/change a situation or make any needed changes.

Something to reevaluate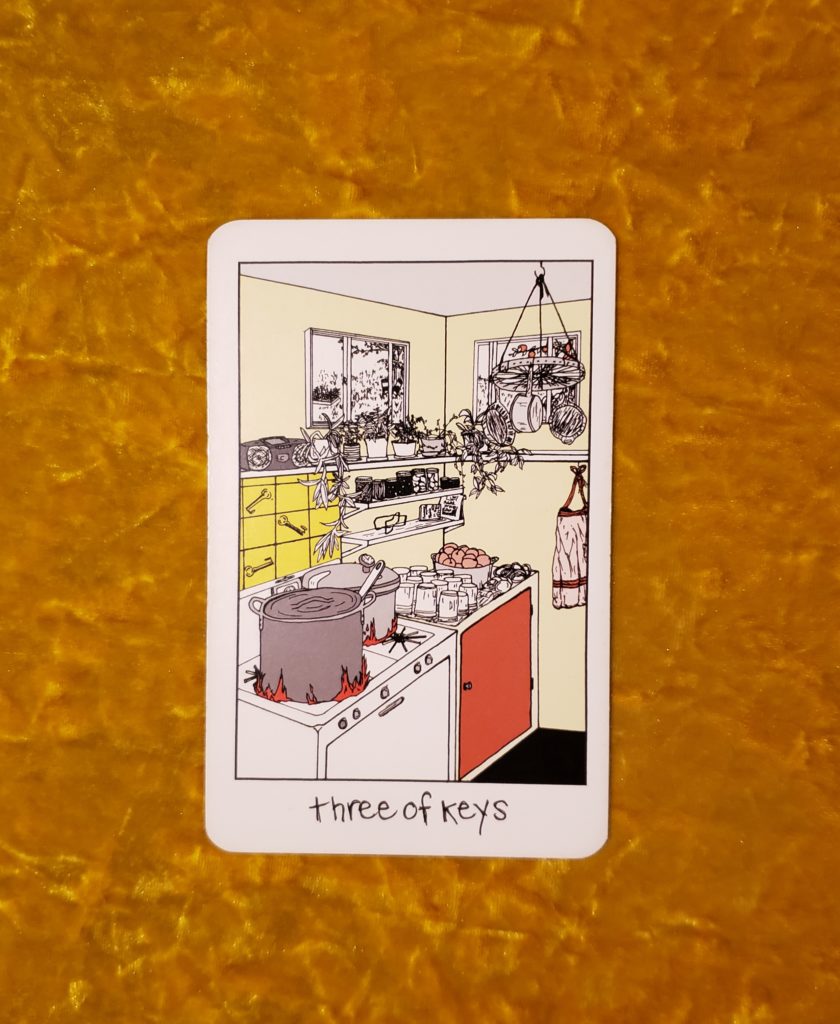 3 of Keys (fire)
#3 Vibrations: ideal vs. real, production, creativity, expression, intuition

On this card we see a crowded kitchen prepped with peaches and equipment to preserve and can the fruit. The tradition of canning itself is simple, but if you're not present and precise during the process, you might be missing a crucial step. This card asks you to be present. To look at what traditions you've been participating in. Which new ones can you create? If you look closely, the peaches sitting on the counter are from the peach tree just outside the window. You have everything you need at your disposal. How are you going to use those resources? How are you going to re/distribute what you have an abundance of? Like the Magician asks, re-evaluate how you define scarcity and make use of the resources you have access to. Revisit your dreams and plans. How have they shifted since March? Have you given yourself the space and flexibility to adapt to adapt to life as it is now? We don't harvest fruit until it's ripe. What big ideas were you in the process of putting out into the world? Were they ready to come out or do they need some more fine-tuning? The number 3 has a lot of creative energy, this card literally illustrates production. Tap into this energy as you envision and create this new world for yourself. 

Something you've neglected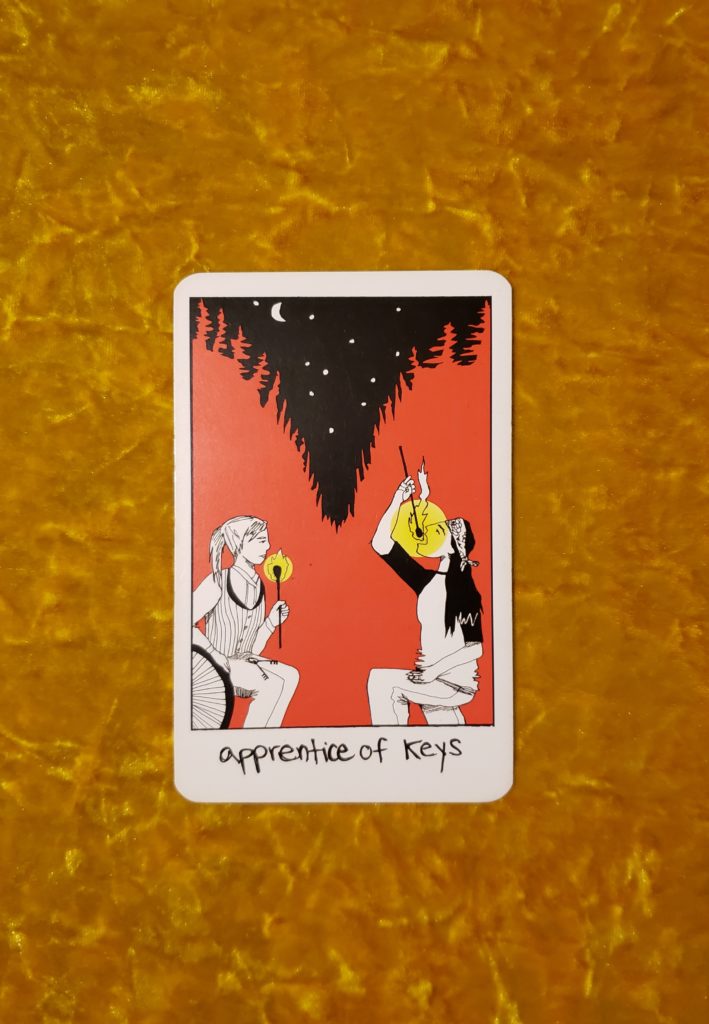 Apprentice of Keys (fire)
Card vibrations: urgency, centering, learning, movement

Have you been neglecting centering yourself before acting? Have you been acting with too much urgency or not enough? Grounding and centering ourselves during this time is difficult, but necessary. It's going to be a lot harder engaging in the work these cards ask of you if you're unable to do so. The person on the card is learning to eat fire. This requires a lot of patience, learning, and centering before acting. As you feel this overwhelming sense of urgency to act come upon you, take a moment to tune in with your body and mental state. Like the Hermit asks, this card urges you to connect to yourself before engaging. Grounding is key, especially during airy Gemini season. Do you have any unfinished projects to revisit? What happened during the process that got you sidetracked? Big 3 of Keys energy. Whether you're trying to reign your energy in or create more of a fire under your ass, finding a balance between these will give you a lot of foundational skills for your work to come.
Something to look forward to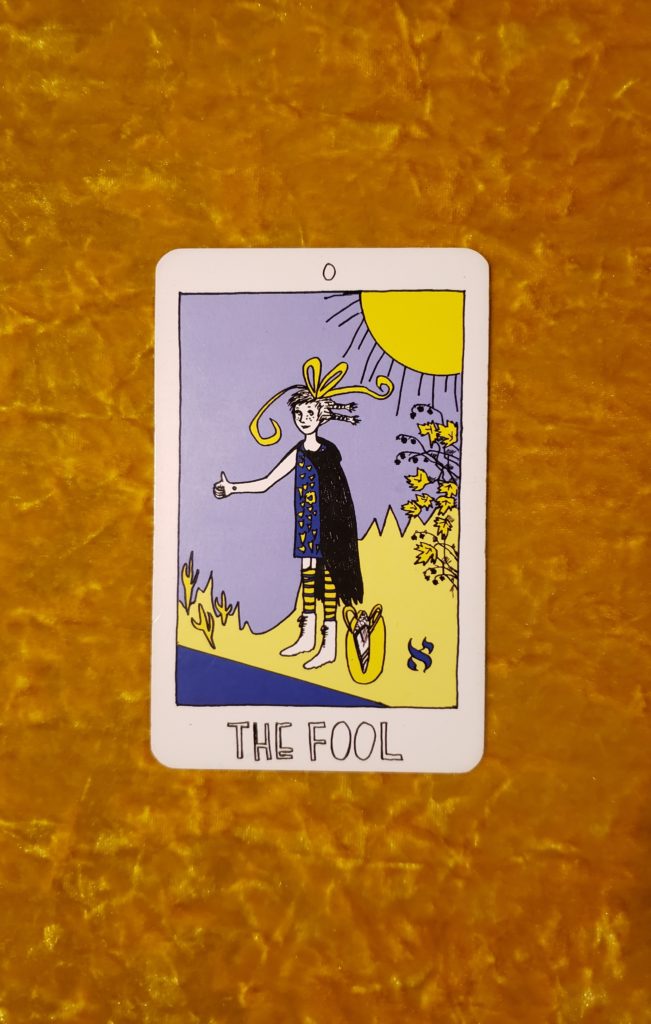 The Fool
#0 Vibrations: limitless, infinite, potential


Amidst all this deep personal inspection, The Fool appears to poise us towards new adventures. We can tap into the adventurous and playful nature of Gemini season. Safely venture out to places you haven't before. Spend time alone in nature. The Hermit and this card work so beautifully together, and if you look at the spread photo, are next to each other. It's like auntie/mom/grandma and child energy. Let the lessons of these cards influence each other. Reconnect with younger/past versions of yourself. Tell them all the things you've accomplished, where you've been, how much cooler your life's gotten since childhood. Open yourself up to chance and listen to your intuition. Embrace your newfound curiosity, and have fun! You deserve to have fun. Be playful and use your imagination when approaching plans, ideas, dreams, even daily living. This card is a new beginning. The transformation I've been talking about throughout this piece. Step out into this new world with more wisdom and curiosity than before and leave any prideful notions behind.

Something that will help you heal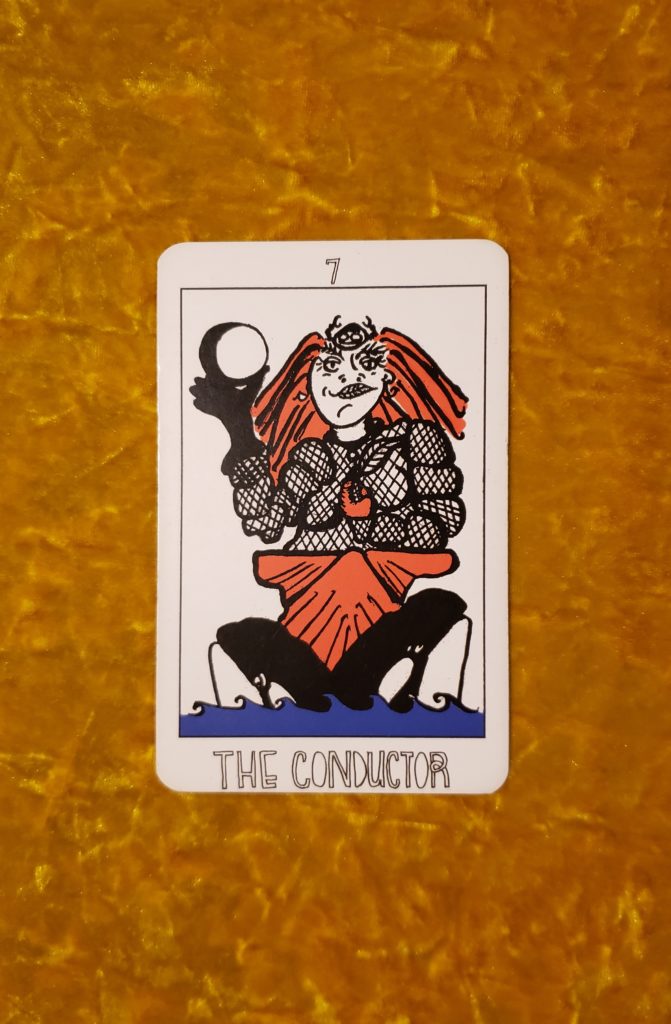 The Conductor (AKA The Chariot)
#7 Vibrations: risk-taking, courage, victory, reflection, motives, wisdom, observation, knowledge, introspection


The Conductor is associated with the zodiac sign Cancer. Cancer season energy will help you reconcile and integrate all this work you've been doing this month. It will help bring some reprieve as you continue your journey as The Fool. On this card we see a she-captain sailing her boat which is pulled by two orcas. She's confident, determined, and has faith in her abilities. Give yourself the care and space to do so as well. The Conductor will help usher in the potential that you've been channeling this month.
Manifesting is made easier with the presence of this card. At this time, you have a huge ability to affect a situation through willpower, so make sure you're centered and know what you want before acting (keep it humble tho). What do you need to feel victorious? How are you planning to celebrate your wins? If you can, spend time near a body of water. This month has been heavy on connecting with your intuition, and water helps encourage and aid that work so well. Confidently ride this new wave of existence. Harness the powers of the universe to move in the direction you want. The presence of this card along with the Fool and Apprentice of Keys provides us with a lot of energy to take on new endeavors. If you're looking for somewhere to apply your energy, consider ways you can be a part of organizing in your community. Read books by Black, brown, Indigenous folx and create spaces to talk about undoing old systems and institutions. This visionary work is supported by the forward-moving momentum of the Conductor and is the first step into creating a world in which we are seen and represented.
Leo Abbott is a nonbinary Caribbean bruja whose interpretations come from a trauma-informed, queer, Caribbean Latinx, anticapitalist, non-Eurocentric perspective, weaving in astrology and numerology. Much of our struggles and hardships come from oppressive hegemonic systems/energies. Their work aims to heal the effects of these energies, all while uplifting and empowering those who are most marginalized in our communities.⁠

Follow Leo on IG @glorytarotdaily. You can book your next tarot reading with them through the link in their bio. Leo always has sliding scale pricing for QTPOC and also accepts donations on cashapp $leoariel and venmo @neoleoz.

Portrait by Sofie Murray